Join us for a Distinctive Educational Opportunity!
Are ethical business practices the foundation on which your organization operates?  Could more be done, so everyone who interacts with your employees leaves feeling they were treated fairly?  These and other questions will be answered in a seminar entitled:
Wednesday, September 27th from 7:30am – noon
Richard E. Winter Student Center at Canisius College
---
11

th

 ANNUAL BUFFALO NIAGARA
BUSINESS ETHICS AWARDS PRESENTED TO
THREE WESTERN NEW YORK BUSINESSES
(Buffalo, NY – May 18th, 2017) The 11th Annual Buffalo Niagara Business Ethics Awards were presented today at a luncheon at Salvatore's Italian Gardens. BNBEA's annual awards event furthers community awareness of ethical behavior by celebrating companies that consistently demonstrate ethical conduct in everything they do.
The 2017 BNBEA Crystal Award recipients for business ethics are:
Aesthetic Associates Centre for Plastic Surgery in the small business category (under 50 employees)
Bak USA in the mid-sized business category (50-150 employees)
Northtown Automotive Companies in the large business category (over 150 employees)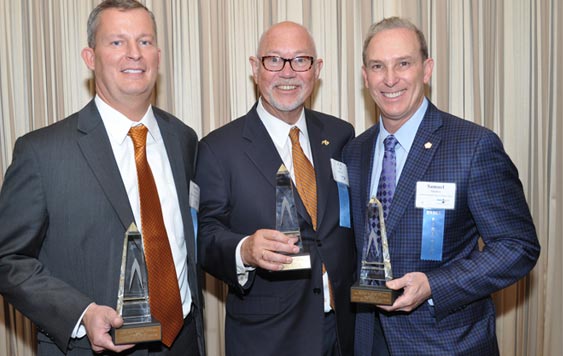 Representing the winning companies are (left to right): Harold Erbacher, Northtown Automotive Companies; J.P. Bak, Bak USA; and Samuel Shatkin, Aesthetic Associates Centre for Plastic Surgery
"For 11 years, BNBEA has proudly brought ethics to the forefront and attention of the Buffalo Niagara community presenting annual awards for business ethics to companies that consistently demonstrate ethical conduct throughout their organizations," said Fred Holender, BNBEA Board President.
A judging panel comprised of community leaders selected one finalist from each category as the 2017 Crystal Award recipient.
The 2017 Buffalo Niagara Business Ethics Awards are presented by the Buffalo Niagara Business Ethics Association and Key Bank; Brock, Schechter & Polakoff, LLP; Canisius College Richard J. Wehle School of Business; Lawley Insurance; Vistage; West Herr Automotive Group and media partners WBEN Radio, WGRZ Channel 2, Business First and WBFO Radio.